Complete and Submit the Comprehensive Community Planning Questionnaire
Comprehensive community planning (CCP) is a holistic process undertaken with broad community participation.
A comprehensive approach:
Enables the community to establish a vision for its future and implement projects to achieve this vision,
Helps ensure that community projects and programs are thought through, make sense and are the best use of resources, and
Integrates and links all other plans the community has produced.
Processes that are driven by the community, for the community, are more likely to result in positive change. That's why LNIB's CCP process is inclusive and represents the perspectives of all members, whether they reside within or outside the community. LNIB's CCP addresses key planning areas, all of which are interrelated and interdependent: governance, land and resources, health, infrastructure development, culture, social issues and the economy.  Consideration of all key planning areas through one unified process defines community planning as a holistic and integrated exercise that can lead to sustainable development.  Please click for presentation: CCP Presentation
---
Story of Hope
---
Comprehensive Community Planning Resources and Links:
ANDC Comprehensive Community Plan website: IANDC CCP Website
Samples of other First Nations Comprehensive Community Plans:
Please note these documents vary as it pertains to its purpose, intention, and audience to share its message.
Comox First Nation CCP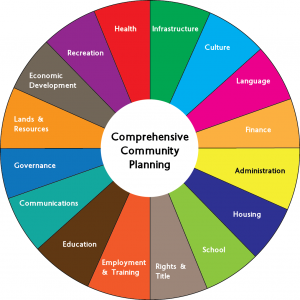 AQAM: Our Thinking (St. Mary's FN CCP)
Curve Lake CCP: Technical Document
---
Related Documents: <!- View not found ->
CCP Questionnaire 2015 v. 3   Print out this document, fill it out and drop off to main office reception or email to leanne@lnib.net
CCP Questionnaire 2015 filable form    Fill in this form electronically & either print & drop off to main office reception or email to leanne@lnib.net
LNIB Community Profile Oct 2015