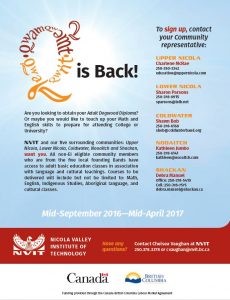 ---
Education and Skill Trailing (ESTR) Certificate Program
Please find below the information regarding the ESTR Certificate program being offered at Thompson Rivers University.  This is a full-time, nine-month program (can be taken part-time over a period of two years) providing students who have a disability, practical knowledge and training for future employment opportunities.  Students divide their time between classes, labs and work experience activities.
Students wishing to attend the 2016-17 academic year should submit a completed application or express interest by sending an email to ESTR@tru.ca before April 15, 2016.
For further information about the program, please go to: http://www.tru.ca/edsw/uprep/estr/application.html
For your convenience, please find attached ESTR Certificate Program packages and brochure which include:
Please return the completed forms to:
TRU Admissions Office
Attention: Penny Pentilchuk
900 McGill Road, Room OM 1155
Kamloops, BC V2C 0C8
For further program details please call or send an email to:
Lois Peters, Instructor - Tel: (250) 828-5298 email: lpeters@tru.ca or
Christina Cederlof, Instructor – Tel: (250) 371-5979 email: ccederlof@tru.ca
Program Assistant – Tel: (250) 828-5290 email: ESTR@tru.ca
Once a student has applied, they will be contacted for an interview.  Interviews will be held in April and May 2016.
---