Are you a band member with a business?  Please contact us about listing your company here...
For more Businesses view attached document: Lower Nicola Band Member Owned Business Directory
---
Alison Sterling
Jacona Sports, Behavior Intervention, and Bubble Tea
ajsterling67@gmail.com
---
Angie Bain
Over 20 years experience in providing training, research, and research analysis services.
angiebain@shaw.ca
604-802-9709
---
Bonnie Bent - Microblading
Microblading is the most innovative and natural looking semi-permanent tatto to define your brows and face.   Microblading is the less invasive form of permanent makeup.  Pigment is professionally tattooed in the upper dermal layer of the skin.  Using 7 micro needles that scratch the surface of your brows.  While traditional tattooing goes 7 layrs deep, microblading only goes 1.5 layers.  Microblading is a technique we use for creating the most natural brows possible.  The hair stroke mimics the eyebrow hairs and creates a feathering effect.  This innovative technique is far more natural looking than a solid or powder brow fill.
Bonnie Bent: 250-280-0340   or 778-800-7878
Click here for more info and prices:  Microblading
---
Brandon Joe
Brandon Joe
Commercial Embroidery Retail and Sales
Cban_13@hotmail.com
---
Cascadian Forest Consultants Service
Forestry consultant, contract administration, roads assistant, post harvest inspections, First Nations liaison, public relations, timber cruising
Leona Antoine
250-280-1687
a3ranches@hotmail.com
---
Clyde Sam
Construction Equipment
Laidlaw0@telus.net
---
Coquihalla Coffee Company
Gourmet coffee supply and distribution
Victor York
victoryork@hughes.net
---
Don McIvor
Licensed Auto Technician
250-378-0095
---
Donna Bent Artifacts
Donna Bent
250-378-4879 Msg or 250-378-1606 text
Pine needle baskets:
Baskets priced from $20 to $35 depending on size, with/without lid, detail.
---
Earthline Contemporary Aborginal Designs and Accessories
Shannon Kilroy
skilroy09@yahoo.com
---
Focu iN Consulting
Business development and Housing
Gail Joe
gaildjoe@gmail.com
---
Gene Moses Fencing
Gene Moses
250-378-2801
---
Glenn Stirling -  Stirling Instrumentation Maintenace, Calibration & Electrical (SIMCALE)
(403) 971-6432
gqstirling@gmail.com
---
Godey Creek Consulting
Sue Sterling
suesterling75@gmail.com
---
Hoodoo Ranch
Hoodoo Ranch is a certified organic farm located in Spences Bridge, BC. It is nestled along the Nicola River amongst towering hoodoos- hence the name.  The ranch consists of a 3 acre orchard with a large variety of apples, pears, peaches, plums, apricots, cherries, and saskatoons.   Hoodoo Ranch has been around for a while but is now under new ownership.  We will be expanding this year by growing mixed vegetables for our weekend u-picks and for farmers markets.   We will also be growing flower and vegetable plants for bedding plant sales
Owner:  Ryan Mann
9730 Hwy 8, Spences Bridge, V0K 2L0
Email:  info@hoodooranch.ca
Website:  www.hoodooranch.ca (currently under construction)
---
Ivan Swakum
Antler Lamps, European Mounts, Wine Racks
250-315-3756
Email: ivanswakum83@outlook.com
---
J.W. Forest Contracting Ltd
Logging contractors, road builders, land clearing
Established 1998
Certified Safe Company
11 employees, 80% First Nations
Equipment:  Faller/Buncher, Grapple Skidders, Log Processors, Excavators, Cat Crawler Tractors
Warren Smith/Janet Sterling owners
250-378-5467
250-378-1556 (cel)
---
JP Edwards Contracting
JP Edwards Contracting provides landscaping, ditching, road maintenance, site preparation, and snow removal. Our company is capable and certified to operate heavy equipment consisting of the following: Excavator, Grader, Backhoe, Bulldozer, Skitter, Tractors, Loaders, and minor excavation equipment.
Certificates: Backhoe Operator, Excavator Operator, Road maintenance and grading, transportation endorsement, Occupation First Aid Level 1, Security Program Certificates level 1 and 2, Fire department first responder, Fire line rehab, Ground Disturbance - Supervisory certificate, H2S Alive, WHIMIS 2015, Pipeline Construction Saftey Training Certificate
General construction, demolition, danger tree falling and tree assesor, protection branch, landscaping, painting.
Moses Edwards, Owner/Operator - Certified Journeyman Operator
250-936-8737
jpedwards33@gmail.com
---
Johnny's on the Rez
Retail, bakery, pizza, gas bar
johnnysontherez@telus.net
---
Lorne Mike
Fitness Instructor and Rough Stock Horses
paulinehenry2011@hotmail.com
---
Maggie's Bannock
Maggie Shuter
250-378-6579
---
Mojo Post Rail and Mill Plant
Robert and Verna Moses
2mojo@telus.net
---
Millco First Aid Inc.
Construction safety and first aid
Working with Construction, Ministry of Forests, Ministry of Highways, Transmission line projects
Angela Garcia or Patrick Miller
email: info@millcosafety.com  or agmillco@gmail.com
Tel: 250-378-2221
Website: millcosafety.com
---
Mostly Glass
Mostly Glass Creations:  Stained glass, mosaics, mosaic lamps, stepping stones, beads, crystals, prisms, window charms, bracelets
Email: mostlyglasscreations@gmail.com
Facebook: Mostly Glass
---
Mountainchief Catering
Crew of 7, all certified with Food Safe
Parties of 10 to 1200
Wide menu variety to suit your needs for Breakfast, Lunch, Dinner, Snacks and Refreshment Breaks
Vivian Narcisse - 250-315-8154
---
Nicola Valley Produce / Growing Garlic
Jerrod Peterson
www.growinggarlic.ca
250-378-5025
---
Normal Hauling
Trucking and hauling
James McNaney
nomadhauling@gmail.com
---
Northwest Coast Indian Art
Gwayne T.A. Point
Tel: 250-378-9167
Original art, quality prints, limited editions.
---
Odd Job Joe
Handy Man Service & Solutions 24/7
250-378-7845
---
Penny Toodlican Catering
pcctoodlican@gmail.com
---
PlumberMann

Owner:  Ryan A. Mann,  Journeyman Plumber, Gas Fitter
Mailing Address:  PO Box 171, 9730 Hwy 8, Spences Bridge, B.C.  V0K 2L0
Contact:  plumbermann250@gmail.com
Tel:  250-936-8655
Residential & Commercial Service and Installation
Natural gas & propane furnaces
Pumps & lift stations
Hot water tanks
Same day hot water heater replacement
Radiant in-slab heating
New home construction
Clogged drains
Renovations
All plumbing repairs
Maintenance management
Leader in safety, licenced journeyman plumber,  certified B-ticket gas fitter
Printable Brochure:  plumbermanncovern
---
Rona Sterling Consulting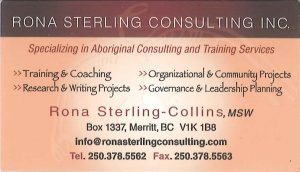 ---
SCS Diamond Drilling
SCS DIAMOND DRILLING has built a strong and lasting reputation providing safe , productive and cost effective drilling services,
drill support services including general mine and energy related services within Western Canada. Operating as a
100% owned and operated First Nations Company
1436 Sun Rivers Drive, Kamloops BC
Ph: 1-250-572-2614       Fax: 1-250-314-4865
---
Shawn Swakum
Business Administration and Consultant
Email: s.swakum@yahoo.com
---
S&D Muir Inc
Mining and Survey Equipment
sd.muirinc@gmail.com
250-378-1964
---
Sharon McIvor
Lawyer, Instructor and Legal Advisor
250-378-3300
---
  
Solely owned by Beth M. Coutlee
Beth is a Positive Innovative Natural Resource Technician with 28 years of work experience. Her work experience consists of: Liaison with First Nations, Developers and Government agencies, Archaeology, Cultural/Heritage Surveys & Reports, Forest Management, Silviculture, Forest Health, Pre-award, Harvesting, Environmental Monitoring, Administration, Small Business, Proposals, Assist with Business Plans, successful Safety Officer/Work Safe BC and she's Great at Management. Beth has always completed all her contracts; successfully and within time constraints. Beth is a strong strategic thinker and a positive team builder.
Beth's contact information -
Mailing Address:
280 E Hwy 8 East, Merritt, BC V1K 1N3
Hm Ph: (250) 378-0808
Email: BethCoutlee@gmail.com
---
Robert Sterling
Archaeology, Anthropologist, traditional land use studies
Email: robert_sterling@hotmail.com
---
T Sterling Construction Ltd
Ted Sterling
ted17@telus.net
---
Stirling Instrumentation Maintenance, Calibration & Electrical (SIMCALE)
Glenn Stirling
email: gqstirling@gmail.com
Tel: 403-971-6432
Instrumentation and electrical trade qualifications for all your E&I maintenance, modifications and installations
---
Travel Best Bets (by Jubilee Travel)
Rona Sterling-Collins, Travel Consultant
Direct: 604-669-6607 ext 351
rona.sterling@travelbestbets.com
www.travelbestbets.com/rona-sterling
---
Wolf Pac Construction
Earl Michel
emichel1@live.ca