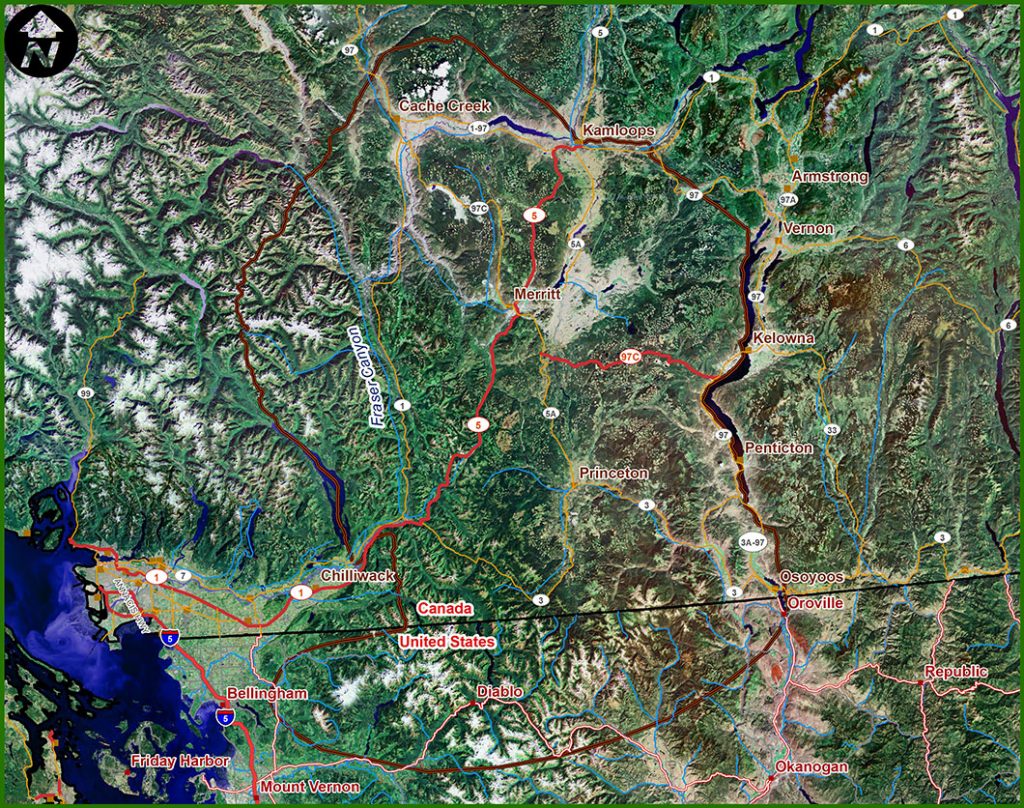 Lower Nicola Indian Band Reserves
Nicola-Mameet IR#1 - 11,350 Acres
Nicola-Mameet IR # 1 - Bisected by Highways 8 and 97C, IR#1 is our largest, most populous, and most developed reserve. The east half of the reserve is primarily mountainous terrain and largely undeveloped. The southern portion includes agricultural land and our two main residential sub- divisions, Shulus and Rocky Pines. In addition to housing most of our on-reserve population, all of our community facilities (e.g., Band Administration offices, arena, Health Centre, etc.) are located on the reserve. The 1997 Physical Development Plan envisioned most future urban residential and institutional development to be located on this reserve.
Joyeaska IR#2 - 320 Acres
Joeyaska IR #2 - Located east of Merritt between Highway 5A and Coldwater Road, the reserve is located strategically next to the region's major transportation artery and has long been considered for commercial and light industrial development. There are some limited hay lands and a little timber on the site. There are 14 member homes there. The 1997 Physical Development Plan designated the northern portion of the reserve between Highway 5A and 5 for future commercial and light industrial uses.
Pipseul IR#3 - 220 Acres
Pipseul IR #3 - Located north of Mameet Lake on highway 97C, the Guichon Creek meanders through the reserve making any development or use more difficult (e.g., grazing, forestry, etc.). There is a good deposit of gravel, some of which has been extracted from pits on the west side of the reserve. The 1997 Physical Development Plan envisioned a future, 15-acre subdivision on the north end of the reserve accessed by the Savona Highway.
Zoht 4 IR#4 - 500 Acres
Zoht IR #4 - This reserve is located nine kilometers outside of Merritt on Highway 5A near Nicola Lake. There are 14 residences on the reserve that are mostly serviced by a community water system. The site includes a large amount of pasture land and some irrigated hay land. Clapperton (Mill) and Shuta Creeks flow through the reserve and provides irrigation water and domestic water for members living there.
Zoht 5 IR#5 - 160 Acres
Zoht IR #5 - Located 15 km northeast of Merritt, the small reserve includes 18 acres of hay fields and some good pasture land and forest. Timber volumes were estimated at 4,000 cubic meters several years ago. There is a single home on the reserve. Road access is quite limited and basic. BC Hydro does not provide power to the reserve. The Physical Development Plan designated the area as agricultural.
Logans IR#6 - 45 Acres
Logans IR #6 - Located on Quilchena Creek upstream from Hamilton IR#7, the reserve is difficult to access and relatively small. With no available services, it was designated as agricultural in the 1997 Physical Development Plan.
Hamilton IR#7 - 4,400 Acres
Hamilton IR #7 - Located 8 km upstream on Quilchena Creek behind the historic Quilchena Hotel and Resort on Highway 5A, the large reserve is home to open, rolling grasslands, cultivated fields along the creek, and significant timber volumes (estimated at 2,400 cubic meters). There are three homes located on the reserve. Access to the area is on an unimproved gravel road. The 1997.
Physical Development Plan designated the area as agricultural with one rural residential property at the north boundary.
Spious IR#8 - 280 Acres
Speous IR #8 - Sometimes known locally as the Pony Reserve, Speous IR#8 is located just 2 km west of IR#1, but is reached via the Sunshine Valley Road 7 km off Highway 8. There is a wet, swampy area through the center of the reserve, with some developable land at the east and west ends that is served by BC Hydro. There are pasture and hay lands on the reserve and an estimated 3,000 cubic meters of harvestable timber. The 1997 Physical Development Plan showed a potential, 25- acre commercial development site for recreational lease lots available to non-members
Zoht IR#14 - 160 Acres
Zoht IR #14 - Located adjacent to Zoht IR #5, the unoccupied reserve is totally undeveloped. In the late 1990s, 3,000 cubic meters of lodge pole pine was harvested to help curb the mountain pine beetle. Road access is limited and the reserve was designated for forestry uses in the 1997 Physical Development Plan.
Hihium Lake IR#6 - 78* Acres
Hihium Lake IR #6 - A small, difficult-to-access reserve located on the west end of Hihium Lake north-west of Kamloops. The Hihium Reserve is shared with Kamloops, Bonaparte and Upper Nicola Bands, the site can be accessed via Highway 97 north of Cache Creek. The 1997 Physical Development Plan designated the land for recreational use.
* The Hihium Lake Indian Reserve is held in common by the Lower Nicola, Upper Nicola, Kamloops, and Bonaparte Bands.
For a total of 17,514 Acres