---
Our challenge is to consume a healthy diet and fitness program within our life style.  We want to understand what nutrients our body needs to be healthy and to be physically fit to grow our own food.
We will learn the nutritious values of vegetables, fruit and other food sources.  We will learn to plan and plant a garden from seed, then we will plant the seedlings into the ground.  We will learn how to harvest, store and preserve the food we grow.  We will learn and practice to be physically fit, as gardening is labor intensive, therefore, an exercise program will be incorporated into our daily activities.  Gardening is a family affair, so fun activities, games and healthy refreshments will be part of our weekly routine.
We will be incorporating a Holistic Model as part of the challenge.  Where we will separate food into the four holistic sections of the medicine wheel to recognize how we nourish our Spiritual, Emotional, Physical & Mental parts of our being, and build on the model throughout the program.  We will include traditional medicine plants, vegetables, fruit and other sources for this program.
Project start date: Monday, January 23, 2017
Project End Date: Friday, June 30, 2017
Target Group: Pre-school age, Youth, Adults, Elders
Project Location: TBA
Estimated Amount of Participants: 11-25 people in total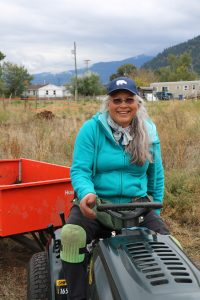 Aboriginal Healthy Living Activities Leader: Lorna Shuter
You can contact Lorna at the Lower Nicola Indian Band's main Administration Office
181 Nawishaskin Lane
Merritt, B.C.
V1K 0A7
Phone: (250) 378-5157
Email: lorna.shuter@lnib.net
Honor Your Health Challenge is a program funded by the Ministry of Health in partnership with Aboriginal Sport, Recreation and Physical Partners Council.
BC Association of Aboriginal Friendship Centers
551  Chatham Street
Victoria, B.C.
Website: www.aboriginalsportsbc.ca
Facebook: http://facebook.com/ASRPAPartnersCouncil