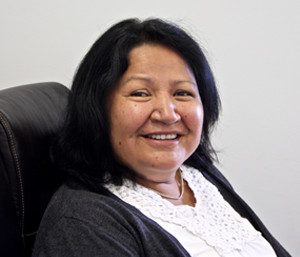 Leesa Mike, Director Land and Economic Development
Email: leesa.mike@lnib.net

Lands Manager:  Stephen Jimmie
Email: stephen.jimmie@lnib.net

Stephen Jimmie joined Lower Nicola Indian Band on December 4, 2017
Stephen is a member of Squiala First Nation which is located in Chilliwack, BC.  He grew up in Chilliwack and completed an Associate Degree in Science at the University College of the Fraser Valley in 2000.  Stephen's interest in land management was sparked while he was the Lands Manager for Squiala between 2006 and 2009.  Stephen successfully brought his community through the ratification process and Squiala began operating under their land code in July 2008.  While employed by Squiala, he started two certification programs.  Stephen completed the Ch'nook Advanced Management Certificate Program through the Sauder School of Business in 2008 and the Professional Land Management Certification Program through the National Aboriginal Land Managers Association (NALMA) in 2009.  However, in November 2008 Stephen started new employment with In-SHUCK-ch Nation as their Economic Development Officer and remained with them until April 2017.  While working for In-SHUCK-ch Nation, Stephen completed the Executive MBA in Aboriginal Business and Leadership Program through Simon Fraser University's Beedie School of Business in 2015.  Stephen is excited to work for LNIB and looks forward to meeting the staff and community members.
Referrals & Traditional Land Use: Crystal Wallace
Email: crystal.wallace@lnib.net
Referrals Technician: Ted Tom, Mary Suchell
Email: ted.tom@lnib.net or mary.suchell@lnib.net 

Lands and Economic Development Administrative Assistant: Monica Charters
Email: monica.charters@lnib.net

The Lands & Economic Development Sector is concerned with investment and management of economic resources, including entrepreneurship development, business development, access to capital, economic infrastructure, land management and administration (Indian reserves and fee simple land), membership & estates, industry relations, negotiations of impact management benefit agreements (IMBAs), development referrals, and Aboriginal rights and title.
Economic Development
Business & entrepreneurship development, economy building, business planning & financing, impact management benefits negotiations.
The framework of the Economic Development department is complex. The significance of managing and monitoring our land, natural resources and our Title and Rights within our Traditional Territory is crucial.  The Chief and Council recognized the complexity and importance of these issues and proceeded to mandate the Negotiations Committee.
The mandate of the Negotiations Committee is to:
Negotiate and conclude Legacy Agreements; Right of Way Agreements; as well as a definitive Impact Benefit Agreements;
The Chief and Council exclusively authorize a Negotiating Committee to carry through all Negotiations in finalizing and concluding all Agreement with each company proposing to do business within our Traditional Territory;
It is anticipated that these efforts will provide significant contract, employment, education, and training opportunities for years to come. The LNIB will continue to be mindful that our way of life depends on protecting the environmental aspects which include the land, water, wildlife and vegetation within our Traditional Territory.
Through these discussions the Lands and Economic Development Department has Economic Development and Communication as an important function of Lower Nicola Indian Band. Over the past year the department has been working on developing a Procurement Strategy. This involved contacting companies performing or planning to conduct business within our Traditional Territory and gathering and collecting information. The information was entered into a database program that would correlate with a Business Registry that we were working on as well.  What we are trying to do is develop and implement a contract opportunity component in our department.
In addition to gathering procurement information, LNIB was gathering information concerning employment opportunities with each of the companies conducting business in our Traditional. Territory.  If we did not have resumes within our system, we looked for and gathered membership resumes.  If the resumes were suitable and matched the criteria, they were sent to the companies. If they lacked specific items we began to identify the components that each possible candidate lacked and began to work on training plans.
Each of these efforts is to promote the member businesses and also to assist our members in securing employment opportunities. We recognize that economy building and success also includes providing a nurturing environment for our entrepreneur s to secure meaningful contract opportunities.  Community engagement initiatives are critical and will be a driving force behind this strategy.
Through the successful Negotiation Committee spinoffs, we can expect that employment, and contracting opportunities will be on the rise over the next few years.
LANDS – Land Title and Transfers
Focus is on Reserve lands only not traditional territory lands
Functions:
Process allotments and CP's for Community members
Research background for land claims
Provide Land Status Reports for surveys and projects to be carried out on reserve lands
Present land issues to Council on behalf of Community members' request
Assist Community members to resolve land disputes and resolve estate land issues
Identify and resolve environmental issues to keep reserve lands safe
Develop bylaws, laws, and policies related to reserve lands
Assist   other   LNIB   departments   such   as   Housing,   Public   Works,   Economic Development, Natural Resources when projects involve reserve lands.
Prepare and process permits for projects such as sand and gravel pits
Work directly with contractors such as lawyers, engineers, and surveyors
Work with outside agencies such as:
Federal: Aboriginal Affairs and Northern Development Canada (AANDC) Natural Resources Canada (NRCan). Environment Canada (EC) Department of Justice (DOJ)
Provincial: Ministry of Highways and Infrastructure (MOTI) Ministry of Mines (MoM)
Work with stakeholders who may have an interest on reserve lands such as tenants, and holders of Right of Ways (ROW) and easements
Council/Staff  experience -does Council and staff feel up to the task to be full decision makers?
Typical growing pains of any government :

Sufficient resources
Staff
Space
Policy and procedural development
Law making

Lots of hard work will be required